Before we start spreading the word this time, a personal note.
When I started this blog this boot-lip nigger buck was just a blip on the radar screen. No one thought he'd ever become the PRESIDENT of the UNITED STATES. But time has gone by, mistakes were made, and now we have an animal running the country.
Besides being embarassing for the country it also gave the world the chance to see what would happen if niggers were in charge.
Welfare is on the fast-track, "I de-SERVE it" is being shouted on every harlem street corner, and this shit-skin is passing new bills so fast I can't keep up with it all. That's right, I can't keep up with it all. I'm a working man. As a white man I have to work. I can't just call in "nigger" today and take the day off. Sometimes after 12 hours on the grindstone I'm just flat out too exhausted to rummage through everything the nigger did for the day and post the most important items.

So having said that, since this blog allows multi-user blogging I'm going to add another writer. Trust me, with this crazy-assed nigger in office it's a necessity. I may even add two. If you're interested send me a PM through Smartpunters.

Ok, moving on...
Niggers lub dat gubbermint powah!

Obama, in his infinite wisdom gleaned from sucking down the highest quality nigger jenkum, has appointed new lawyers from the Recording Industry Association of America to fill positions in the Department of Justice. This is on the heels of our favorite nigger hiring over 300 new IRS Auditors to make sure you pay your fair 40% tax. (Do you know that you work 4 hours every day just for the government?!?!?!)
RIAA, if you'll remember, was the company responsible for shaking down little old ladies for downloading an MP3 on the internets.

This is a perfect matchup for the power-hungry ape since they both hate America's freedom. Given enough time and enough power from the Eric Holder nigger these new recruits will make fine boots in the new gorilla (get it?) army. I wonder how long till they're marching down the street with high goose steps and being followed by huge ICBMs in our own version of Iran's country pride parades? Of course, here it'll more likely be a gay pride parade, complete with pink missiles and government employees in purple tu-tus.
Misguided niggers think they're making a stand, just look stupid.

This nigger wants nothing special. All niggers want it, hell they even wrote lyrics to it, "The powah an' da munnie, munnie and da powah! Minute aftah minute, Owah afta owah!" It's getting so bad that the CEOs of Bank of America and General Motors, two of the biggest companies on the planet, actually bent over and grabbed their ankles for this guy. He said, "Do what I say or I'll make life a living hell for you." Seriously, that's a quote. He told BOA CEO Ken Lewis that if he didn't play ball he'd be bankrupt within the year.
What part of that is OK? Either one of those guys should have told the Shit-skin to fuck off and die, then beat his nigger ass with a cat-o-nine right there on their million dollar imported office rug. You don't become a nigger President then start barking orders to the private sector. You have no right. You're a public servant If you don't like it move to Russia.
On a completely unrelated note, there have been several reports from homes near our forefather's graves of loud rumbling, as if someone were rolling over and over and over at near light speed.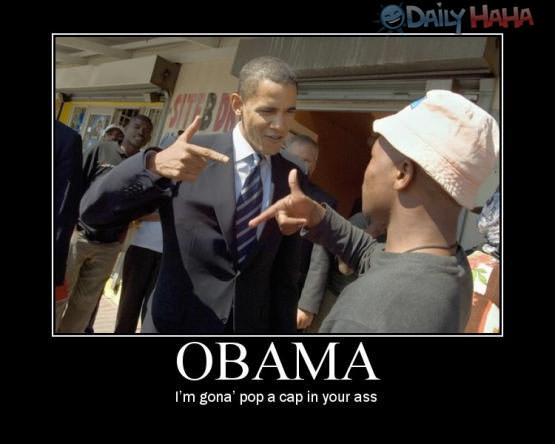 Obama busts a cap in a bit of ghetto lobster

Our nigger also decided that Cap and Trade was the ONLY answer to global cooling - I mean global warming - I mean climate change - I mean...Oh hell. What are they calling it this week? Anyway it's going to all be fixed by the magical nigger and his Enlightened Cap and Trade system, which (like global warming) is getting a name-change to "Environmental Energy Development".
Nevermind that Cap and Trade already failed in three different countries, the important thing is that it means more money for the nig! Welfare needs an income, ya know. May as well take it from the power companies. In the words of our chief chimp, "This is great. It's going to cause energy prices to skyrocket."
Oh really? That's a good thing? My house is about average sized and my electric bill is already 500.00/month in the summer. If Obama has his way that'll double. That's $1000/month for ELECTRICITY...
What would your bill look like if it doubled? Every time you think about it thank a nigger. Remember that he's getting his "powah" for free. Ahh, equality is great.